Last Minute DIY (Do It Yourself) Costumes!
I don't know about you, but I hate to drop $50 on a dog costume when it is easy enough to make one myself. These photos serve to spark ideas for costumes you make with your recyclables, knick-knacks and leftovers. These are options that will cost you next to nothing. And, they're easy peasy to put together. Have fun by tapping into your artistic side and create a memorable outfit.
Marilyn Monroe. This is my little Buddy James, a Cavalier King Charles Spaniel. They were bred for royalty, and Buddy seems to know that. He has a low tolerance for doing anything he doesn't want to. He takes after me. My free-spiritedness must've rubbed off on him because he prefers to be unencumbered by frilly fashions. The best way to get him to cooperate for Halloween is to make the most minimalist of costumes. Here he is as Marilyn Monroe — the wig was leftover from my old costume. It's always smart to save and recycle 'em whenever you can. The only thing is I couldn't get Buddy to sing "Happy Birthday, Mr. President," but Buddy looks damn good, doesn't he?
Dog Taco. This is the little dog sandwich I met during a fundraiser for animal shelters. Costume ingredients: 1 small dog, 1 light-colored dishtowel, felt strips — hopefully matching the color of the dishtowel — snaps, buttons or Velcro to hold the costume in place around the neck and underbelly. For doggie sandwich fixings, create lettuce, tomato and onions by sewing snippets of lace to the sides of the towel or, if you're in a hurry, use leftover gift-wrapping ribbons.
Groovy Hippy. This is Nadia the Shih Tzu. She belongs to my friends Terry and Elena Stewart. Nadia is shy, but apparently she lets her hair down on Halloween. Terry used his art skills to make a decorative "Hippy Chick" label, which they safety pinned onto Elena's flowered scarf, and voila! Instant happy flower-power hippy-dog.
Chinese Laborer. This is a patient pug that I met at one of the annual events. If you've never been, I highly recommend it as it's always a joyful occasion. This costume is simple to duplicate. You'll need one long piece of bamboo cut into two pieces and another piece left over to shred into flat stringy strips. Or go easy on yourself and pick up some beige string. For the little buckets and woven hat, you can try online or your local crafts shop, florist or hardware store. Any old scrap of material will work for the wrap-around garment, but I do think red works especially well. You can shake things up by attaching a sign to the overworked laborer that says, "Where's my union rep?"
Superdog. Here's my Buddy again. I found this inexpensive cape at my local CVS, but it would be simple to make. All you'll need is one yellow plastic garbage bag, yellow string, scissors and a red fabric marker. Draw the Superdog "S," and you're done. Buddy and I got lots of laughs the year he wore this little superhero cape.
Dog Boat. If you're seeking a fun project for the whole family, here it is. You'll only need standard supplies. Google blue and brown cardboard or stop by an art store. You'll need a matte knife or scissors to cut out the wave shapes and the sides of the boat. Cut scraps of white fabric and poke holes for the string. You'll build your cardboard boat around a milk carton. That's where the dogs will sit. Attach the fabric to sticks with string, then attach them securely to the milk carton. The whole thing should rest securely atop a sled or wheeled cart. You could throw in a pirate hat or an "Ahoy, mate" sign. That's it.
Scary Cape. If you're in a hurry and don't want to spend any money, look through your drawers for a black shirt. I happened to have this "Saw" T-shirt from a movie premiere, but any creepy image will do — skull, skeleton, Chucky, Freddy Krueger, or you can use felt and glue to make white eyes and a creepy red grin. Bah-da-bing, done.
Note: This dog model is my dear friend Norman. He is the hairy son of my friend and neighbor Ellen Tress.
Rock Groupie. Here's another T-shirt route. Pull out any of your rock 'n roll T-shirts and feel free to accessorize. For Jimi Hendrix, you'll want to tie a scarf around the forehead a la Jimi. If your dog has a tendency to let his tongue hang out, a T-shirt with The Rolling Stones logo will be perfect, or you can go the Bob Marley T-shirt route and add a multi-colored hat with long felt strips for dreadlocks.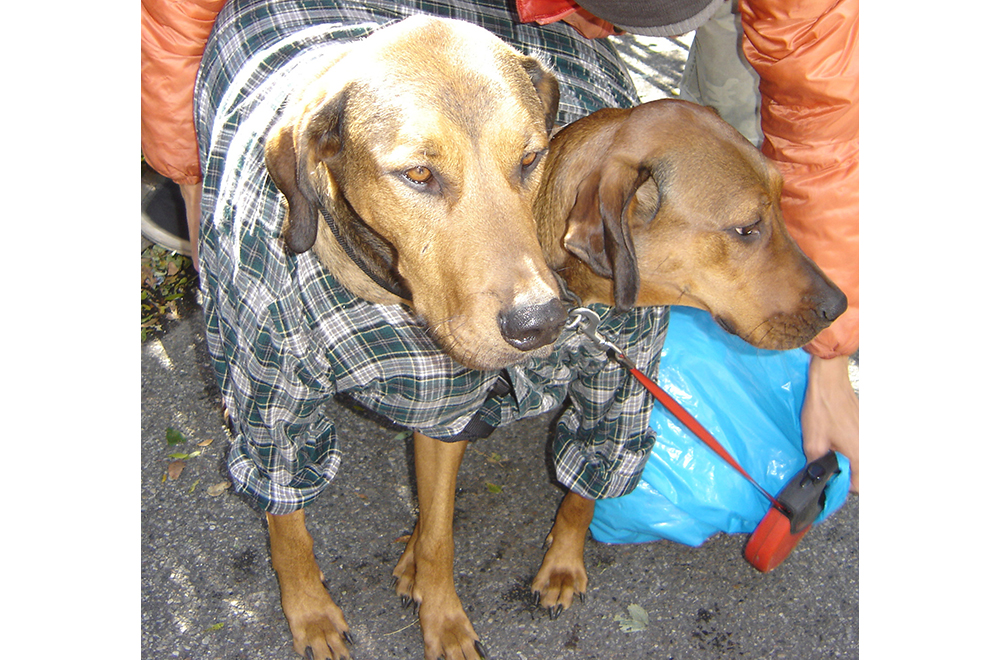 Two-Headed Dog. Here's another super-simple option. If you have two dogs or if you want to team up with a friend and her dog, reach into the closet and pull out a large flannel shirt. That's all you'll need. Dress the doggies in the shirt as shown in the photo. No muss, no fuss. Of course, you'll need two dogs that get along swimmingly, and hopefully they're both mellow because if one darted off after a squirrel, things could go terribly awry.
Witch's Sidekick. Have to come up with something quick? No problem. Cast a spell over your closet and pull out black garments to drape over you and your pooch. No double, double toil or trouble. If you happen to have a witch's hat from years past, throw that into the magic brew, too, or make a black yarn hairpiece for Fifi. That's it, and you're good to get on your broom and fly to the last-minute party.
Degas Ballerina. All you need is a yard of pink tulle fabric or that old dance-class item abandoned in the bottom of a drawer. Fetch gift-wrapping ribbon from your "re-gift" box. Cut the tulle into thick strips. Grab the ribbon and cut a piece that is long enough to wrap around Fido's middle. If you only have small pieces of ribbon, knot them together until it's long enough, then attach the tulle to the ribbon by either tying knots or sewing. When all the tulle is attached, wrap the ribbon around your doggie and tie a knot. You're ready to plié to the party.
Spooky Tree. This sexy number requires brown ingredients. The tree in the photo is made with a combination of burlap and wire. An easier, softer way is to use an old brown T-shirt you don't care about, brown paper, cardboard and tape or glue. Cut the cardboard into one 4 inch by 24 inch piece. Score the cardboard strip at 12 inches and fold the two sides so it looks like a thin letter A. Cut the brown T-shirt from the bottom so you have enough T-shirt material to wrap around the cardboard. Tape and/or Krazy Glue the cardboard/T-shirt A-shaped piece. Roll, twist and scrunch pieces of brown paper for the branches and secure those with tape and/or glue. Lastly, make sure it's sturdy so it doesn't flop over.
Chinese Food Container. Here's another arts-and-crafts project. You'll need pieces of white board or Styrofoam. The vegetables in the container can be made with brightly colored strips of paper. With a red marker, create the Asian artwork on the side.
Note: This Pug's owner created a wire handle so the container won't wobble or fall off. This costume requires a very mellow dog and lightweight materials.
Subway Map. Yup, that's my adorable Buddy again. Isn't he photogenic? I happen to have a cool T-shirt with the New York City subway map on it. But you could use a white T-shirt and colored markers to create a map of your local transportation. For the streets on the map, you can use colored tapes.
Say it with Words. Come up with something funny, print a sign from your computer, adhese it to cardboard, add string and hang it around the doggie's neck. Now, go forth and make something cool. Boo!