Dog Tattoos by Celebrity Dog Stylist Jorge Bendersky
Glitter tattoos are the latest trend in the canine fashion world. Jorge Bendersky has always been a fan of artistic tattoos and wears many himself. Now he extends his love of tattoos to his furry friends. Whether you want roses, flowers, skulls or butterflies all you need do is ask. "Dogs are like humans," said Bendersky, "when they accessorize, they get lots of attention." And who wouldn't want that? These tattoos are applied gently and are easy to remove. Ask Jorge about a T-shirt for you to match Fido's tattoo. Contact Jorge Bendersky on hiswebsite, Facebook, YouTube and Twitter.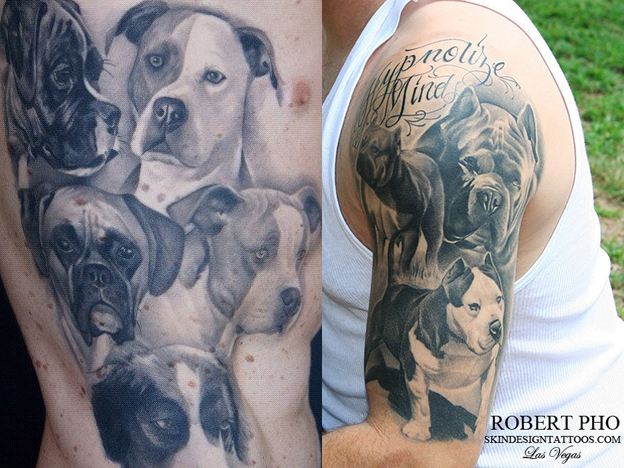 Dog Tattoos as Pet Portraits
If you're not in the mood to gussy up your dog in glitter tattoos, maybe wearing your dog portrait-style as a tattoo is more your style. Robert Pho of Skin Design Tattoos is the best in the biz. He's a national award-winning tattoo artist in Las Vegas, Nevada and has been tattooing for over 20 years. His specialty is detailed black and grey realism. Talk about immortalizing your dog in wearable art, eh? Contact Skin Design Tattoo via Facebook, Twitter, web site or phone: 702-739-9946.